Jon Clark - Vocals, Acoustic Guitar, Banjo, Lap Steel, Harmonica, Trumpet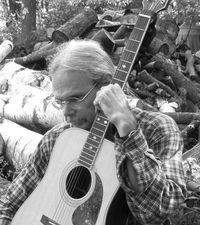 Jon Clark has been writing songs since the early 70's. After way too many years, this singer/songwriter has released Volume 1 and Volume 2 of his collection. He was born "with Gabriel's trumpet at his side" (and it hasn't strayed too far since). Coming from a musical family, it seemed natural to pick up and play any instrument that happened to be around. Jon bought a used 5-string banjo and proceeded to scare the neighbors dogs with it. Later he gravitated towards the acoustic guitar and lap steel.

During the 70's there was a renewed interest, a revival of sorts, with bluegrass, folk, and country music among many "Woodstock Generation" musicians. Folk rock was flourishing. Kentucky and San Francisco collided, and western cowboys were seeing more colors than brown.

Inspired by this movement, Jon started to write songs and jotted them down in a spiral bound notebook. Many of these songs lay dormant for years, tucked away in life's closet of accumulated stuff, until a shuffle of cards brought them back to the top. In the past few years, Jon is back writing songs, playing guitar, and singing about people places and things that he has skidded into.
Gordon Clark - Acoustic guitar, Electric guitar, Slide guitar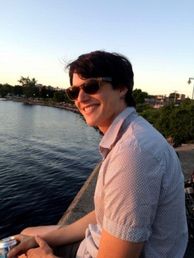 Gordon, son of Jon Clark, is a multi-talented musician and an integral part of the "One Long Skid" project. His guitar playing is a vital element for the making of all the OLS albums and their live performances. Gordon has been the guitar/vocal front man for "The Stoolz" and "Bear Pickens", as well as trombone player and horn section leader for "Bearquarium" from Burlington, Vermont. He has the ability to see the big musical picture, and "lets those notes go for a ride".
Jack "Thor" Nalanthor - Bass
Jack, also known as "Loopy Jack", has gained quite a reputation for his outside bass playing adventures. In addition to his interests in free form jazz and juggling, he is often heard singing bass in various underground a cappella vocal groups throughout Europe's finest metro systems. Jack and Carlan Jan Koth were once banned from performing in the streets of Amsterdam, when local officials deemed their act too dangerous for the general public. Lured to the United States with the promise of fame and fortune as a studio side musician, Jack now resides back home in the Netherlands.
Carlan Jan Koth - Keyboards
"Crazy Carl" enjoys surfing and raising pygmy goats with his long time partner Heidi on the beautiful island of Maui. He enjoys agricultural pastimes and learning more about the difference between white and black keys. While often lured to the mainland with the promise of fame and fortune as a studio side musician, Carl now resides back home in Hawaii.
Hank dreams of some day beating the worlds largest drum atop Mt. Kilimanjaro to call the world to it's senses, but in the meantime he teaches suburban pre-school children how to keep 7/8 time with sticks on the floor. Hank has spent years memorizing, note for note, every "space-drum jam" that Bill Kreutzman and Mickey Hart have performed in concert between the years 1984-1989. Lured into the Row North recording studio with the promise of fame and fortune as a side musician, Hank now resides back home in the Chicago area with his wife and five children.